We are pleased to present our signature Forged Performance Entry Level R35 Track Package
This Track Package is designed to target 2 areas, the suspension and brakes. The FP sway bars drastically reduce body roll, improve handling and increase stability while still maintaining a stock ride. The correct combination of lines, pads and fluid will improve stopping power while significantly reducing brake fade.
This Package Consists Of:
•Forged Performance Motorsports Grade Front and Rear adjustable Swaybars with teflon-lined spherical endlinks
•Forged Performance Stainless Steel Brake Lines, Front and Rear
•Carbotech XP12 front and XP12 rear brake pads
•Motul RBF 600 DOT 4 Brake Fluid (2 bottles)
Quick Summary of the parts:
[b]Forged Performance Sway Bars are sculpted from military spec 1096 spring steel for the strongest and most durable bars available on the market today. Our end links are precision engineered with Teflon-lined spherical bearings with center adjustable turnbuckles for easy and precise preload adjustments. Unlike current offerings, our end links and hardware are true motorsport grade large diameter pieces. Custom made tapered stainless steel CNC machined spacers are used to achieve correct control arm to sway bar geometry with no chances of binding or bending as we've seen in the past. The front sway bar is made of circular tubing with a 38.4 mm diameter that is 133% stiffer than OEM. The rear sway bar is made from solid tubing with a 23.8 mm diameter that is 806% stiffer. The OEM sway bar is almost entirely ineffective as shown by our track testing, so a dramatic increase in bar size was required in the rear.
Sway Bars:
Features
• Manufactured from MS1096 spring steel and heat treated
• 3 Way adjustable front sway bar – Maximum 133% stiffer
• 5 Way adjustable rear sway bar – Maximum 806% stiffer
• Motorsports Grade End-Links: Teflon-lined spherical bearings with center adjust for easy length adjustment to eliminate preload without any rattling or harshness
• Stiff polyurethane bushings and steel mounting brackets
• Grade 10.8 Fasteners
• CNC Machined precision spacers for perfect alignment without binding or contact
• Eliminates the factory compliant rubber and plastic end link bushings which can deflect and wear out under loads
• FP Maroon Powder Coating
• Suited for track AND street use
Stainless Steel Brake Lines:
Key Features:
• Teflon inner line covered with a woven layer of stainless steel and wrapped in abrasion resistant translucent red covering
• Each and every line is DOT Certified MVSS-1006
• Burst Tested to 6000psi which is more than 3 times the pressure seen in the OEM braking system
• No washers, banjo bolts or extra fittings needed.
• Full 6 line Kit completely assembled and read to bolt on.
• Perfect fitment without any stretching, rubbing, or mismatching. Zero defect QC
• Real race and competition tested
[color="#FF0000"][b]Carbotech Brake Pads:[/b][/color]
The latest iteration of the highly successful XP™ series of compounds with an extremely high initial bite, torque and fade resistance than compound XP10™. XP12™ is a world leading friction compound that is unmatched as a Ceramic racing compound, with a temperature range of 250°F to 2000°F+. The XP12™ still has that excellent Carbotech release and modulation that has made all other Carbotech compounds so successful. The XP12™ is the most rotor aggressive compound Carbotech offers, but compared to the competition the XP12™ is still very rotor friendly and contains 100% non-corrosive dust. XP12™ is recommended only for expert/very advanced drivers. XP12™ is found to be most affective on race cars weighing 2,400lbs or more using R-Compound tires; or street cars weighing 3,200lbs or more for track use only. Ideal for LMP1, LMP2, DP, T1, T2, T3, H1, H2, GT1, GT2, GT3, TC, GT, ST, GS, MX-5 Cup, etc… XP12™ is NOT recommended for use as a daily driven street pad due to possible elevated levels of dust and noise.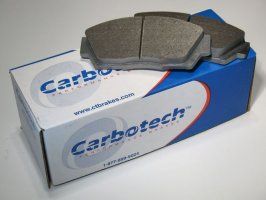 Motul RBF 600 Brake Fluid:
Motul RBF 600, the ultimate high performance brake fluid. Motul brake fluid has an extremely high dry boiling temperature which helps prevent vapor lock as well as reduce brake fade during hard use. Rated boiling temperature of 595* F.
Forged Performance package pricing of – $2299
This includes:
•Forged Performance Sway Bars
•Forged Performance Stainless Brake Lines
•Carbotech Brake Pads
•Motul RBF600
•Ground shipping in the lower 48 states (Georgia Residents will have to pay sales tax, Extra shipping will be added outside of 48 states)
*Swapping out different brake pads to a different preferred compound or different brand will be acceptable by request, but prices will reflect accordingly.*