Last week the Forged Performance Team left our Marietta location for a weekend filled with motorsports activities. By Wednesday night we were in our hotel in North Carolina preparing for our very own 4th Annual ZDAYZ Airstrip Event. We reserved the Hendersonville, NC Airport Strip for a day full of friendly smack talk and drag racing…eghhm…I meant "Performance Testing". The Airport Strip is 3,075 feet long and in excellent condition since its fresh repaving a few years ago. The fastest cars saw speeds in excess of 150mph!

Chris@Forged took my camera up in a single engine plane to get an aerial shot as the event was in full swing.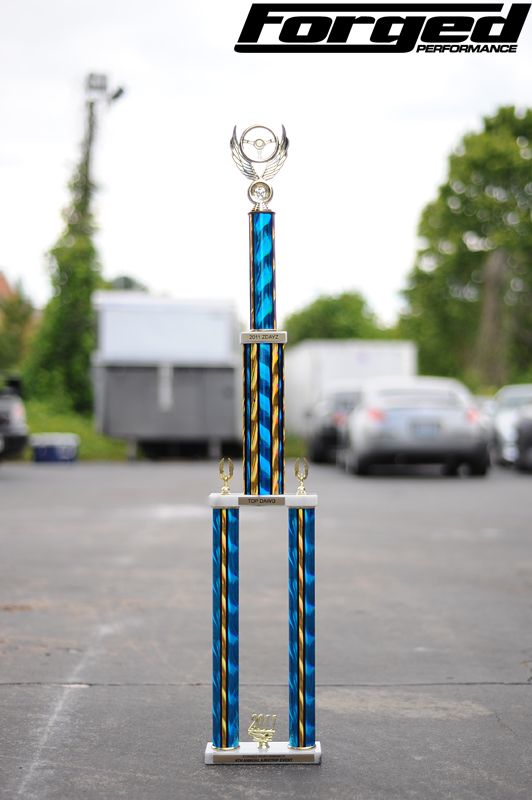 The trophy and bragging rights for "Top Dawg" competition was the talk of the day.

The runway allowed 40mph to 140mph pulls safely and was put to use non-stop all day by some very fast high horsepower cars. While it was a Nissan based event we had a large and diverse lineup of vehicles. From Vettes, to Vipers, to Hondas everyone was welcome to run what they brung. The soundtrack of the day was most definitely the beautiful sounds of blow off valves, turbo's spooling and the grunt of cam'd V8 sports cars. In total we had over 75 people take advantage of this awesome opportunity to come out and spectate or legally test theirs cars in a safe and controlled environment.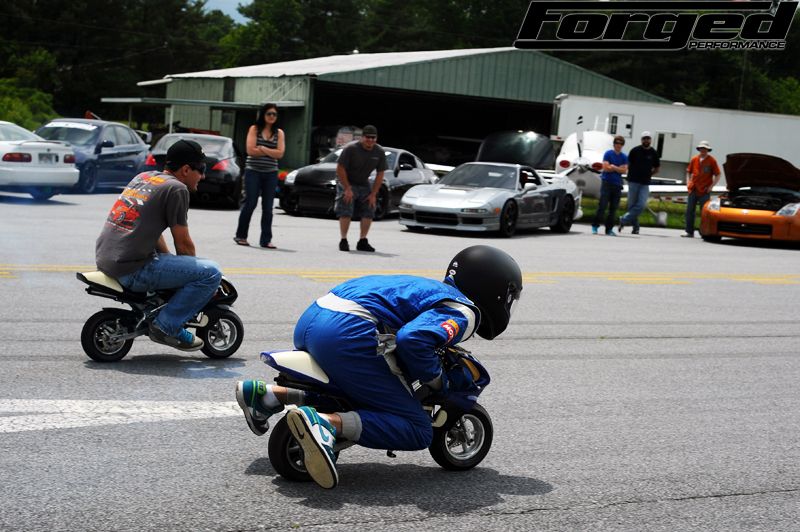 During a break we even had two guys doing some "Performance Testing" on a couple pocket rockets. One of them took it very seriously as you can see.

Within a few hours it was clear who had the fastest cars and had the best chances of taking home the coveted Top Dawg Trophy. Our Sales Manager, Ryan had a tank full of E-85 in his R35 GT-R and was easily taking win after win.
A few hours later, last years "Top Dawg", Hal from Dynosty showed up in his built VQ35DE Nissan 350Z equipped with a massive GT42R single turbo making over 1000whp. At this point everyone knew who was going to be battling it out at the end of the day. Hal's car weighed 400lbs less and made over 500whp more than Ryan's GT-R but traction would be an issue with with the 350Z. The last run of the day was reserved for Hal and Ryan to go head to head. Hal had his girlfriend riding shotgun so to make it fair I jumped in the passenger seat of Ryan's GT-R. This was the race everybody was waiting for.

After lining up at the very start of the runway the crowd started to gather as both cars started to creep up to a 40mph 2nd gear roll. At the starting line both cars roared to full power while Ryan's GT-R with AWD and instant throttle response jumped to an early 3 car lead while Hal's struggled to maintain control of his traction limited 350Z. By the top of 3rd gear I was looking back at the 350Z still 2-3 cars lengths back. Then Hal shifted into 4th gear and at this point everything changed. His car produced the most evil sound my ears have experienced and started viciously pulling past me and Ryan in the GT-R. At 150mph, Hal and his 350Z had a one car lead over Godzilla.

After the last test of power between Ryan and Hal's monsters we all came together for a group photo and to re-cap the amazing event we all had a part in. The majority of the vehicles at this event were either built and/or tuned by Forged Performance and it is great to see them out getting put to work back to back on a hot summer day and still drive 3+ hours back home. Like we always say our specialty is building fast AND reliable daily drivers. From the drag strip, to the mountains, and back home again. Word on the streets is that many competitors will be stepping up their game to an even higher level next year. See everyone next time!
After the Airstrip event wrapped up the fun was just getting started for the Forged Performance Team. After racing our cars non-stop all day it was time for the 3 hour cruise to Deals Gap and  Fontana Village for ZDAYZ 2011.

Once arriving we checked into our cabins and quickly unpacked, while most people were hanging out at the bar or relaxing we just had to get a Tail of the Dragon cruise in before nightfall. The weather was warm, the roads were dry and free of any debris…we couldn't have asked for better conditions for a spirited drive.
After our Thursday afternoon cruise through the Dragon we grabbed some dinner at Wildwood Grille at Fontana Village Resort and caught up on some sleep. We were going to need it for what was sure to be an epic weekend to come.
Friday was a beautiful day at Fontana Village and was the official start of ZDAYZ 2011. Cars from 28 different states started rolling into the campgrounds and it started getting packed by midday. We spend a large majority of our day at the Forged Performance tent chatting and catching up with friends and customers.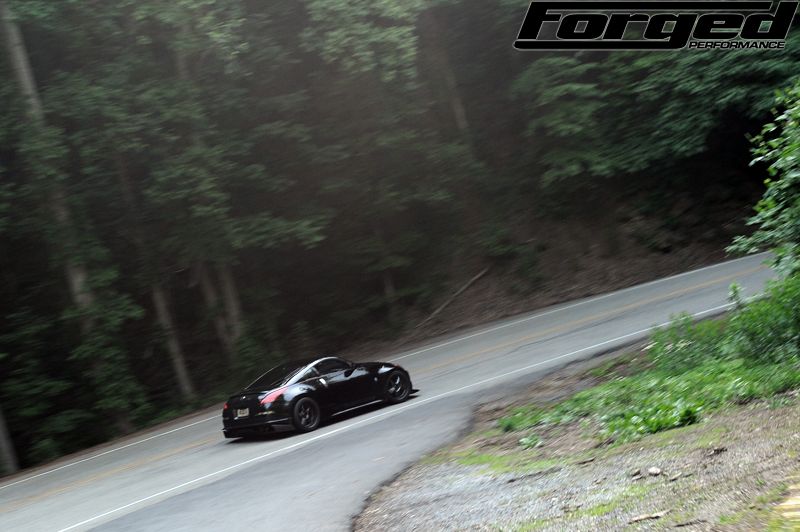 If you know us then it wont come as a surprise that we managed to squeeze in a few drives through out the day.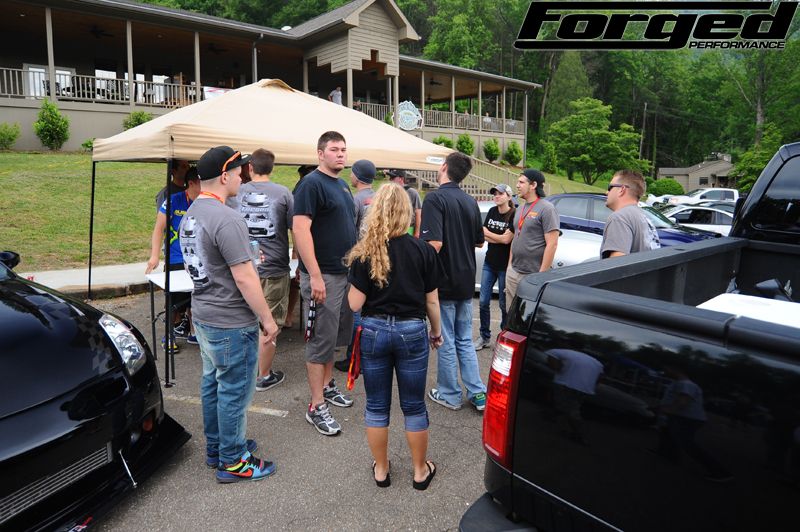 As the day continued on we continued to spend time at our tent with friends and customers and then attended the Welcome Dinner in the Rec Hall. The food was eatable and the hosts were entertaining to say the least.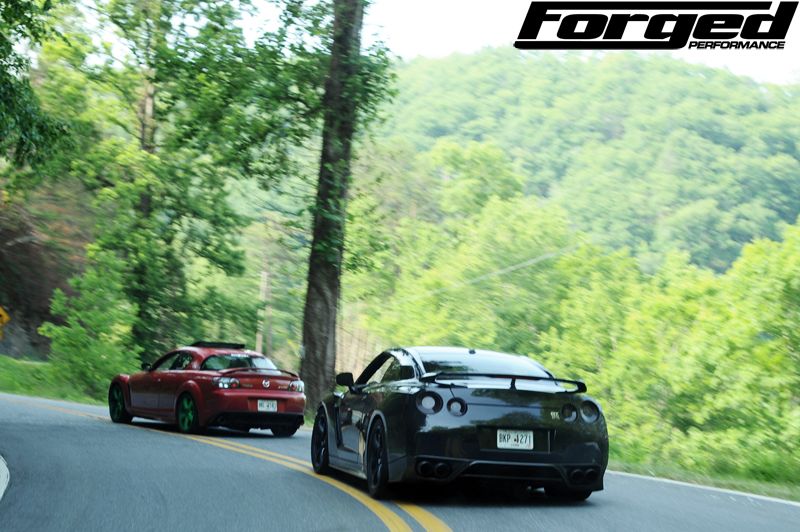 After the Dinner we decided to take advantage of what day light was still left and get one more cruise in before dark.
Late Friday night was the Parking Lot Get Together and after party. ZDAYZ stories always consist of tails of epic late night parties and this year was no different. A live DJ was provided and the alcohol was plentiful, but since we had already arranged a 7:15am mountain run we refrained from staying out too late.

After getting a good solid 5 hours of rest we meet at the General Store area Saturday morning to head out before the Tail of the Dragon got crowded with other cars and bikes.
Sharif really put the Forged Performance 2011 STI to work in the twisty roads

I also headed down to the car show that afternoon and saw some very nice cars on display to be judged.

Our very own Ryan@Forged took home 1st place in GT-R/Skyline Wild with his modified R35 GT-R!
After the show concluded I headed back to the cabin for a quick but very much needed power nap and then got ready for the Saturday Group Dinner.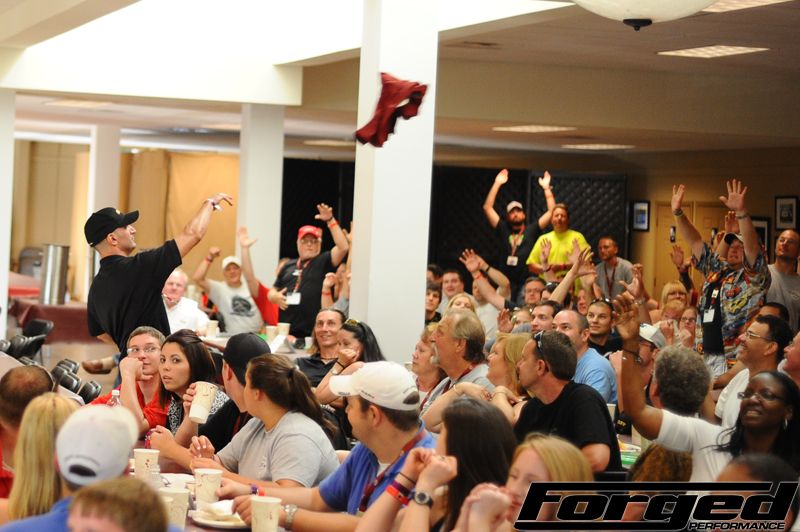 During the meal Sharif, the Owner/General Manager/Tuner at Forged Performance gave a very entertaining speech, showed feature video on the shop and gave away a ton of Forged Performance goodies!
After the dinner we decided to do drive up to the Fontana Village Dam for a evening photoshoot!

1920×1200
1680×1050
1400×900
1280×850

1920×1200
1680×1050
1400×900
1280×850
This time I brought my strobes and the lighting was perfect, the location was amazing and I had some of the best cars from Atlanta ready for me to work my magic on. I have also provided desktop wallpapers for you to use if you like the cars and photos, your very welcome!
Overall ZDAYZ was a huge success with almost 500 registered car enthusiasts. We enjoyed the company of great people, beautiful cars and perfect weather. I may no longer own my 350Z but I can promise you I will be back at ZDAYZ next year. If you enjoy twisty roads, fast cars and friendly car people then make sure you are in attendance next year.
-Chadbee