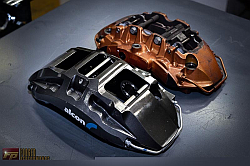 One of the most impressive features of Nissan's R35 GT-R is it's outstanding OEM braking system. With driver at the wheel, hauling it's 4100lb mass down from 160mph is no easy task. Nissan engineers clearly took this into consideration when designing the OEM system with large Brembo 6 piston front calipers; 4 piston out back, and equally large rotors to absorb and release the enormous amount of energy created by this level of deceleration. When fitted with OEM run flat tires and pads the GT-R can be coaxed into 1.2g's of deceleration or greater at full braking load. Naturally, one would assume that the Alcon Super Kit would be the last thing the GT-R would need. But given the amount of time I've spent behind the wheel of a GT-R on track, I can say this would be an incorrect assumption.
Even I was skeptical at first until Ryan Doi, fellow GT-R owner and head of the sales team at Forged, announced that his Alcon Super Kit had just arrived. The entire operation at Forged ground to a halt, as Ryan passed around this enormous CNC machined masterpiece of a caliper that simply dwarfed the OEM Nissan Brembo Caliper it soon would replace. We immediately set aside some time to fit the kit and see just how well the Alcon Super Kit would perform. As the largest Alcon GT-R distributor in the nation, Forged Performance has plenty of "foot" time with the Alcon Rotor Upgrade kits for the GT-R's which have proven to be superior to the other offerings on the market. No whirring noises, better longevity, and less judder are some of the key benefits. I am still on my first set of rotors even after a dozen days on track!
Those that push the GT-R to the absolute limits on track, know that the GT-R OEM braking system even with upgraded pads and lines, is fabulous for a few laps but in short order braking consistency goes down while drama in the braking zones goes up. A superior braking system should shine in overall braking consistently, offer a linear and predictable braking feel, an elimination of pad knock-back, and a greater capacity to dissipate heat. In a nut shell, a racing driver wants their brakes to work predictably, and repeatedly lap after lap after lap. When I press harder on the brake pedal, I want the car to decelerate at a faster rate, and when I ease up on the pedal I want a clean release and reduction in deceleration. Unfortunately, this is where the GT-R brakes fall short and protest. Those of you that have seat time in a Porsche GT3/Cup know what predictable and repeatable braking feels like. Ultra linear, with no brake fade and a positive feel in the pedal.

The Alcon Caliper is CNC Machined from a single block of billet aluminum and developed using Finite Element Analysis and Alcon's Optimized Structure Caliper Architecture resulting in a stiffer caliper design The 6 Piston caliper design front and rear use differential piston bores for optimum torque delivery and better pad wear. The massive 15.75" x 1.42" (400mm x 36mm) front rotors and 15.16" x 1.30" (385mm x 33mm.) rear rotors offer a significant increase in swept area along with greater mass, both of which contribute to increased thermal capacity and a higher level of available brake torque over the standard brakes.
So with high expectations in my head, Ryan was kind enough to let me do a half-dozen laps at Atlanta Motorsports Park in his daily driver GT-R while he attended the Nagtroc GT-R Beach Party event in Florida (life is tough working at Forged). Fitted with a fairly mild endurance compound Pagid Yellow pad I took to the track using the out-lap to bed the brakes in and get an overall feel for the brakes.
It took just a couple laps to easily rip off a pair of 1:28 laps around AMP's highly technical circuit and the brakes were literally night and day better than the OEM caliper setup on my daily nearly identical GT-R. Superior pedal feel, immediate and consistent braking action and most important to me was the complete elimination of pad knock back that many of you are familiar with. I could easily modulate the brakes while staying out of ABS and the brake torque was tremendous delivering 1.6 g's of braking force. Ryan flew in the following day and flogged his car on Sunday and was breaking deeper and harder with each successive lap. I for one, am sold, and will be installing an Alcon Super Kit on my GT-R just a soon as I get my hands on one. And with plans to test out several custom pad compounds, we are looking forward to taking this system ever further.
And Ryan was pretty happy with his decision and his smile cannot be masked by his helmet.